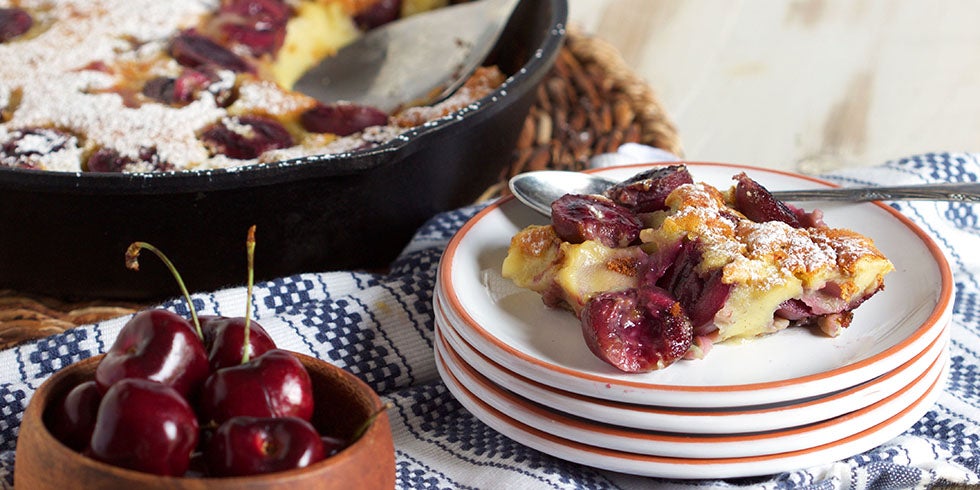 Cherry Clafoutis
(
Dessert, Seasonal
American )
It's cherry season and we can't think of anything better than snacking on fresh, juicy cherries. All day long. They're the star of so many summer desserts, but we also love something easy and quick like this simple Cherry Clafoutis.
Cherry Clafoutis
Prep Time: PT10M
Cook Time: PT35M
Total Time: PT45M
VegetarianDiet
Ingredients
1 tablespoon unsalted butter, softened 3/4 cup milk 3/4 cup heavy cream 1/3 cup granulated sugar 1 tablespoon vanilla extract 6 eggs 1/8 teaspoon kosher salt 3/4 cup flour 3 cups cherries, pitted Confectioners' sugar, for dusting
Instructions
Preheat oven to 425F. Butter a 9 inch cast-iron skillet or baking dish. Set aside. Combine milk, cream, sugar, vanilla, eggs, and salt in a blender. Blend for a few seconds to mix ingredients. Now add the flour and blend until smooth, about 1 minute. Pour the batter into the buttered skillet, then distribute cherries evenly on top. Bake until a skewer inserted into batter comes out clean and a golden brown crust has formed on top, approximately 30 to 35 minutes. Dust with confectioners' sugar and serve. Can be served warm or at room temperature.
MAKES: n/a
SERVES: n/a
CALORIES/SERVING: n/a