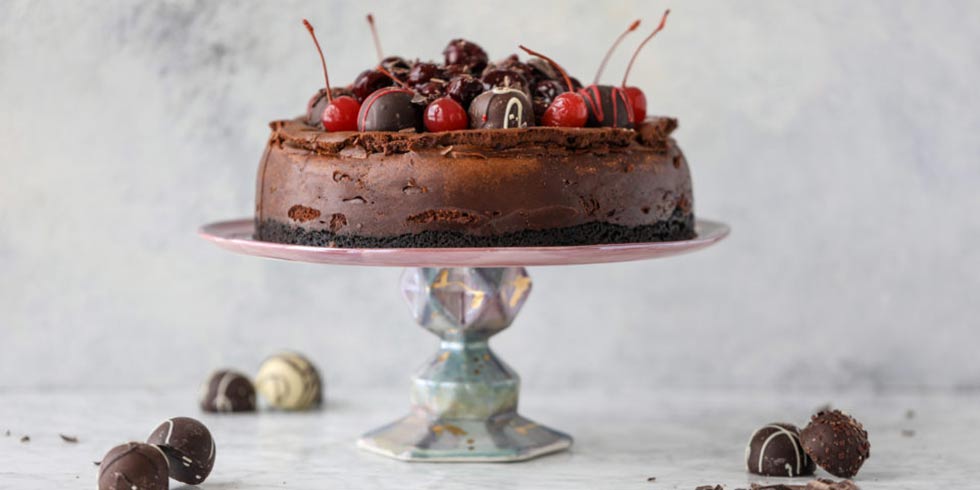 Chocolate Truffle Cherry Cheesecake
This picture-perfect Chocolate Truffle Cherry Cheesecake is a show-stopping dessert to share with friends. Harry & David Signature Chocolate Truffles make a decadent topping to a this chocolate-cherry masterpiece.
Chocolate Truffle Cherry Cheesecake
Prep Time: PT35M
Cook Time: PT60M
Total Time: PT1H35M
VegetarianDiet
Ingredients
_For cheesecake 25 chocolate sandwich cookies 6 tablespoons unsalted butter 6 ounces high-quality dark chocolate, melted 4 (8-ounce) blocks cream cheese, softened 1 cup sugar 1/4 cup cocoa powder 3 large eggs 1 teaspoon vanilla extract 1 box of Harry & David chocolate truffles Maraschino cherries for topping Chopped chocolate for topping _For ganache topping 1 cup heavy cream 8 ounces dark chocolate, chopped _For cherry topping 2 cups frozen pitted cherries 2 teaspoons cornstarch
Instructions
Preheat the oven to 350 degrees F. In a food processor, add the cookies and blend until they are in fine crumbs. Add in the melted butter and blend until the mixture is moist. Press the crust in the bottom of a 9-inch springform pan. In the bowl of your electric mixer, beat the cream cheese until smooth. Beat in the sugar, melted chocolate and cocoa powder. Beat in each egg one at a time. Beat in the vanilla extract until just combined. don't overbeat! Pour the batter into the crust. Bake for 60 to 65 minutes, until the center is just set. Remove the cake from the oven and let it cool completely. Chill it overnight. To make the ganache, heat the heavy cream in a saucepan until warm. Pour it over the chopped chocolate. Let it sit for a minute then stir until completely smooth. Let it cool slightly, then pour it over top of the cake. Chill for 30 minutes. To make the cherry topping, combine the cherries and cornstarch in a saucepan over medium heat. Stir to combine and heat until thickened, about 5 minutes. Let cool completely. Remove the cheesecake from the fridge and top it with the chocolate truffles on the edges. I like to use 8 or 10. Fill the center with the cherry topping. Add the chopped chocolate on top as well as the maraschino cherries. Serve!
MAKES: n/a
SERVES: n/a
CALORIES/SERVING: n/a