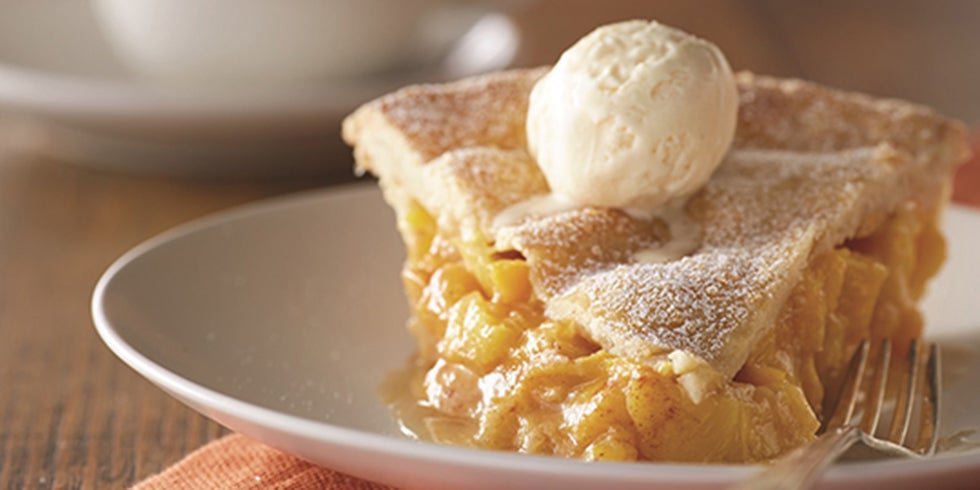 Classic Peach Pie
( Harry and David Team
Dessert
American )
This delightful peach pie is a summer staple and one of our absolute favorite ways to enjoy our Oregold@reg; Peaches. Crumbly, buttery crust paired with soft, juicy peaches? Nothing could be better!
Classic Peach Pie
Prep Time: PT15M
Cook Time: PT50M
Total Time: PT1H5M
VegetarianDiet
Ingredients
Homemade or store-bought double pie crust 10 fresh peaches, sliced 1/2 cup flour 1/2 tsp ground cinnamon 2 Tbsp lemon juice 3/4 cup white sugar 1 egg 2 Tbsp chilled, diced butter 2 Tbsp cold water
Instructions
Preheat oven to 450F. Prepare pie crusts and line a 9-inch pie pan with one crust. In a small bowl, mix flour, cinnamon, and sugar. Place sliced peaches in a separate, large bowl. Sprinkle with lemon juice. Add flour mixture and gently combine. Spoon the peach mixture into prepared bottom crust, and top evenly with diced butter. Cover with the other pie crust, tuck edges under the bottom piecrust, and crimp to seal. Whisk egg together with cold water to make an egg wash. Brush it over the top of the pie. Place pie in center of oven. After 10 minutes, reduce the oven temperature to 350F and bake for approximately 40 minutes or until the crust is golden brown. Serve with vanilla ice cream or whipped cream.
MAKES: n/a
SERVES: n/a
CALORIES/SERVING: n/a