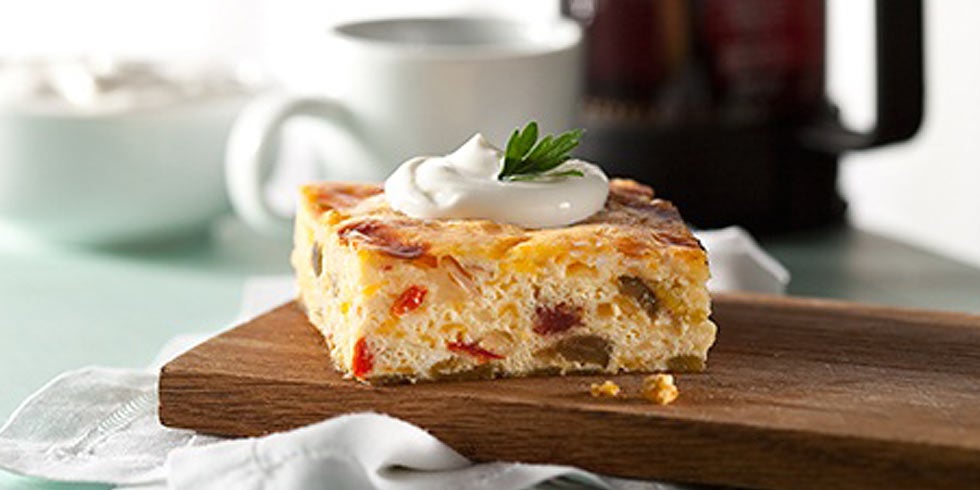 Monterey Jack and Green Chilis Egg Casserole
( Harry and David Team
Breakfast
American )
This savory egg casserole recipe has quite the hype. So much so that we call it "the greatest breakfast ever." Make this cheesy, delicious egg bake for breakfast or as an easy appetizer before a great meal.
Monterey Jack and Green Chilis Egg Casserole
Prep Time: PT5M
Cook Time: PT40M
Total Time: PT45M
VegetarianDiet
Ingredients
1 lb Monterey Jack cheese, grated 1 lb cheddar cheese, grated 6 eggs, lightly beaten 1 can (12 oz) evaporated milk 1/2 jar Harry & David@reg; pepper and onion relish 2 cans (4 oz) chopped green chilies, well drained
Instructions
Preheat oven to 350 F. In a large bowl, combine the cheese, eggs, milk and relish. Line a 9x13 baking pan with the chilies. Pour cheese mixture over the chilies and bake at 350 F for 40 minutes. Cool pan for 5 minutes before cutting into small square pieces. Serve warm or at room temperature tastes great either way.
MAKES: n/a
SERVES: n/a
CALORIES/SERVING: n/a