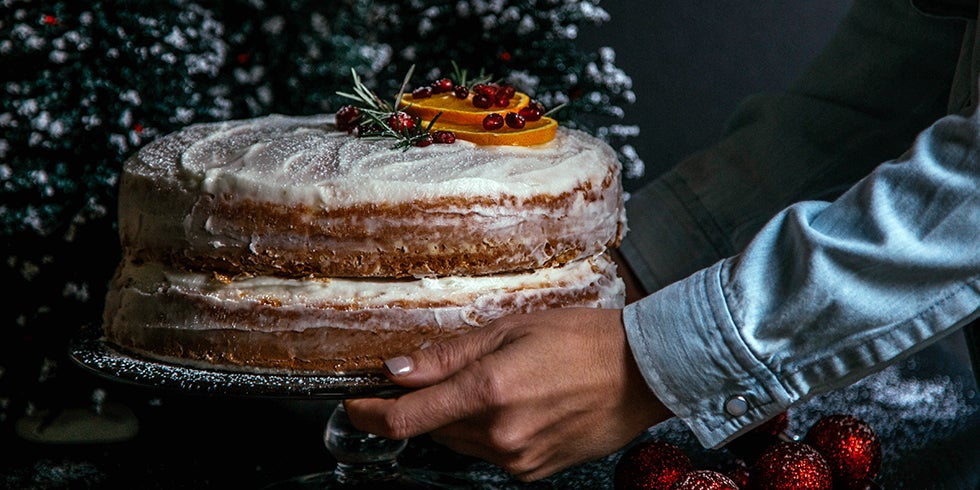 Orange Cake with Rum-Infused Frosting
This zesty orange cake features Cushman's HoneyBells (which are juicy and sweet tangelos) plus the colorful addition of pomegranates. This cake is the perfect holiday dessert featuring some of our favorite flavors of the season.
Orange Cake with Rum-Infused Frosting
Prep Time: PT10M
Cook Time: PT30M
Total Time: PT40M
VegetarianDiet
Ingredients
_For the orange cake 1 box prepared vanilla white cake mix 3 eggs, whisked 1/2 cup vegetable oil 1 cup water 1 tablespoon orange juice 1 teaspoon orange zest 1/2 cup pomegranate seeds, divided A couple of Cushman's HoneyBell slices for garnish _For the rum frosting 1 cup unsalted butter room temperature 5 cups confectioners sugar 3 tablespoons rum (add more if needed) 1/2 teaspoon kosher salt
Instructions
_For the cake Preheat oven 350 degrees. In a bowl combine vanilla cake mix, vegetable oil, eggs, orange juice, rum, and 1/4 cup pomegranates. Mix well. Divide the batter between two nine-inch cake pans. Bake for about 25 minutes or until you insert a toothpick and it comes out clean. Let the cakes cool completely. Once cooled, cover the tops and the cakes with rum frosting. Put one nine-inch frosted cake on top of the other. Then cover the sides of the cake until the whole cake has been covered. Garnish the top of the cake with remaining pomegranates and HoneyBell slices. _For the rum frosting In a mixer fitted with a whisk attachment, whisk the butter, confectioners sugar, and salt together. Add the rum until well incorporated and the icing is fluffy. If you need to add more rum to make the icing thinner, do so. Set aside until ready to spread onto cake.
MAKES: n/a
SERVES: n/a
CALORIES/SERVING: n/a