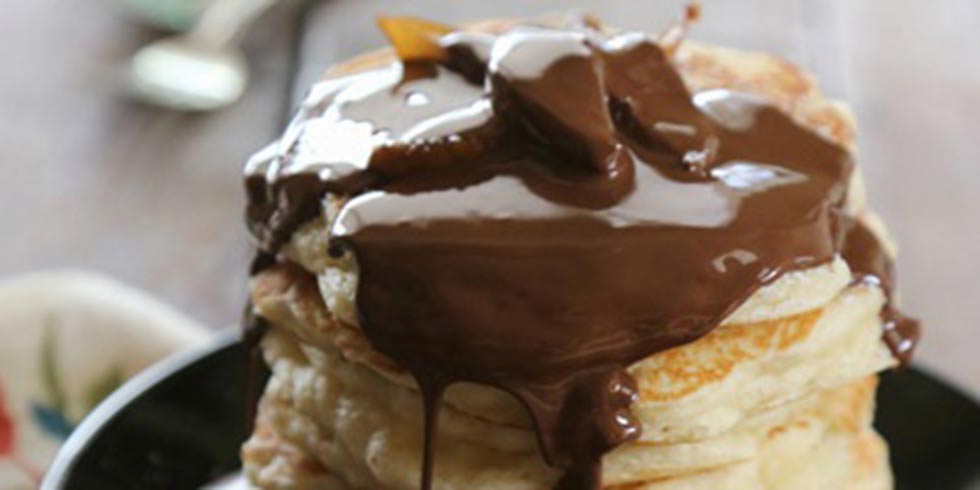 Buttermilk Pancakes with Chocolate Truffle Syrup and Candied Pears
(
Breakfast, Brunch
American )
We love the delicious possibilities that await when we dig into our chocolate, wine and gift baskets. Our Dessert Wine and Truffles Gift actually can put a tasty spin on breakfast. The recipe for a chocolate pancake topping is below.
Buttermilk Pancakes with Chocolate Truffle Syrup and Candied Pears
Prep Time: n/a
Cook Time: n/a
Total Time: n/a
VegetarianDiet
Ingredients
_For buttermilk pancakes 2 cups all-purpose flour 1/4 cup granulated sugar 1/2 teaspoon baking soda 2 eggs, room temperature 2 cups buttermilk, room temperature 1/4 unsalted butter, melted, cooled pinch of cinnamon _For truffle syrup 8 David & Harry Truffles _For the candied pears 2 large pears, diced 1/4 cup brown sugar
Instructions
_For the buttermilk pancakes In a large bowl, whisk all eight ingredients together. don't over mix the batter. Preheat a skillet to medium-high heat. Spray the skillet with non-stick cooking spray. Ladle about 1/3 cup of the batter into the skillet. Once little bubbles appear, flip the pancake Cook for another minute or until golden brown. Repeat the process until all the batter has been used. Drizzle your pancake with the truffle syrup and garnish with the candied pears! _For the chocolate truffle sauce In a medium saucepan over medium heat, melt six chocolate truffles. Stir to make sure the chocolate doesn't burn. Remove from heat. _For the candied pears Preheat oven to 400 degrees. Spray a baking sheet with non-stick cooking spray. Toss pears with brown sugar and place on baking sheet Bake for about 20 minutes or until golden and caramelized.
MAKES: n/a
SERVES: n/a
CALORIES/SERVING: n/a