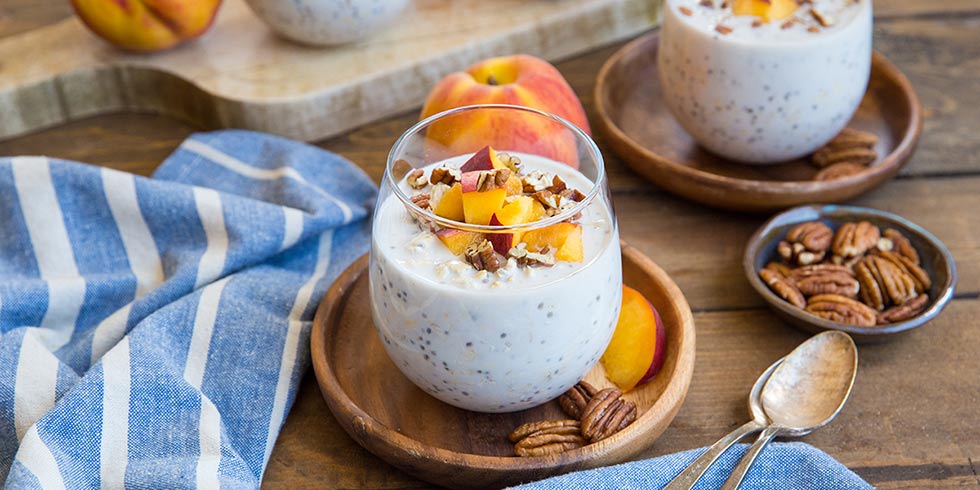 Peaches and Cream Overnight Oats
Peach-lovers, get ready, these peaches and cream overnight oats are made gluten-free and dairy-free for a great start to your morning. This easy recipe will officially become your favorite breakfast food this summer. With the addition of Harry & David Oregold Peaches, this recipe takes your oats from good to WOW!
Peaches and Cream Overnight Oats
Prep Time: PT15M
Cook Time: n/a
Total Time: PT06H15M
VegetarianDiet
Ingredients
2 cups gluten-free old fashioned rolled oats 2 tbsp chia seeds 1 teaspoon ground cinnamon Pinch sea salt 3 large Harry & David peaches, cored and chopped 3 cups unsweetened almond milk 1 cup full-fat canned coconut milk 3 tbsp pure maple syrup 2 teaspoons pure vanilla extract _For serving Chopped peaches Raw or roasted pecans
Instructions
Add all ingredients for the overnight oats to a large sealable container or jar and stir well. Seal and refrigerate overnight or at least 6 hours. If possible, stir oatmeal a few times as it sits. After oatmeal has chilled overnight and is nice and thick, taste it for flavor. Add more peaches and/or pure maple syrup to taste. Serve in bowls or glasses with chopped peaches and pecans.
MAKES: n/a
SERVES: n/a
CALORIES/SERVING: n/a