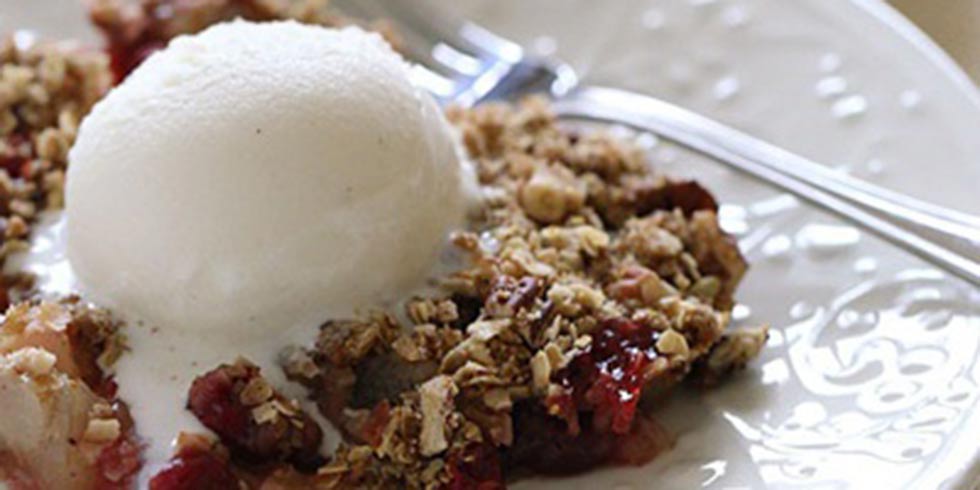 Cranberry Pear Crumble
( Gina Homolka
Dessert
American )
In December 2013, we sent Gina from Skinnytaste a box of our famous Royal Riviera@reg; Pears. She quickly came up with a decadent way to use our pears for a fantastic holiday dessert. Try Gina's Cranberry Pear Crumble recipe this season and find out why our pears are the best around.
Cranberry Pear Crumble
Prep Time: n/a
Cook Time: PT60M
Total Time: n/a
VegetarianDiet
Ingredients
_For filling 5-1/2 cups peeled and diced ripe pears 1 cup fresh or frozen cranberries 1/2 tsp. fresh orange zest 1/4 cup honey 1/2 Tbsp. cornstarch 1/2 tsp. cinnamon _For crumble topping 2/3 cup uncooked quick oats 1/4 cup light brown sugar, not packed 1/2 Tbsp. whole wheat flour 2 Tbsp. coconut oil (or oil of your choice) 1/4 cup chopped pecans 1 Tbsp. ground flax seeds 1/4 tsp. salt
Instructions
Preheat oven to 325 F. Lightly spray a 9-inch-square baking dish with cooking spray. Combine pears and cranberries in a large bowl, add the orange zest, honey, cornstarch and cinnamon and pour it into the baking dish. In another bowl, combine the crumble topping ingredients and sprinkle evenly over the fruit. Bake uncovered for about 60 minutes or until browned and bubbly. Serve warm.
MAKES: n/a
SERVES: n/a
CALORIES/SERVING: n/a