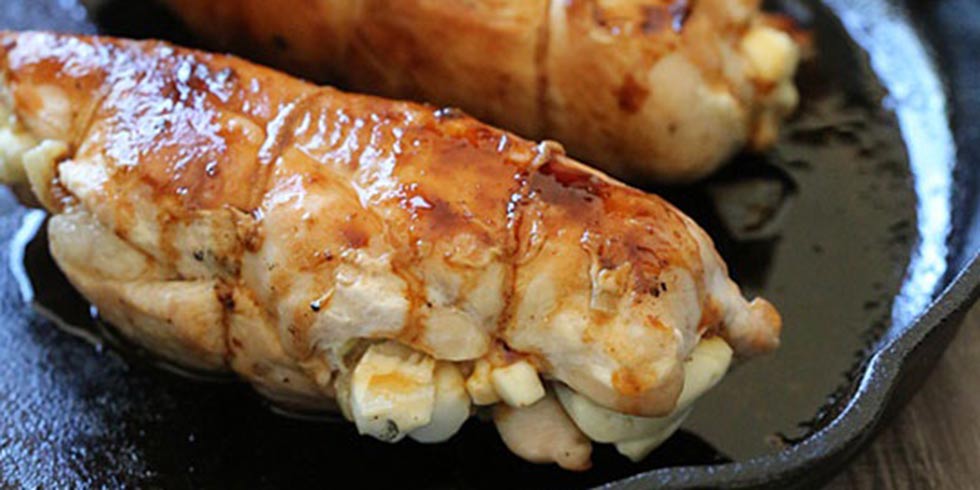 Stuffed Chicken with Pears and Brie
( Gina Homolka
Dinner
American )
Achieving the perfect balance of sweet and savory can create a complementary flavor combination that allows both elements to shine. This recipe, created by Gina Homolka of Skinnytaste exclusively for Harry & David, does just that by adding one of our juicy Royal Riviera@reg; Pears to stuffed chicken. The delicious result is a hearty dish that also includes rich Brie cheese with a touch of peppery arugula and sage.
Stuffed Chicken with Pears and Brie
Prep Time: n/a
Cook Time: n/a
Total Time: n/a
Ingredients
2 large boneless, skinless chicken breasts (16 oz total) Kosher salt and pepper, to taste 1 teaspoon olive oil 1/4 cup chopped onion 2 slices prosciutto, chopped 2 sage leaves, chopped 1 Royal Riviera@reg; Pear, peeled and diced into 1/2-inch pieces 2 oz Brie, skin removed, divided 1/4 cup baby arugula Cooking spray Cooking twine
Instructions
Preheat the oven to 375F degrees. Make a lengthwise cut into the side of the chicken breast to create a pocket for the stuffing. Season the inside and outside of the chicken with salt and pepper. Heat a skillet on medium heat and add the oil, onions, and prosciutto. sautè until golden, about 3 to 4 minutes. Add the sage and pear, season with a pinch of salt, and cook 3 to 4 minutes or until translucent. Remove from heat and add the arugula. Set aside to cool a few minutes. Divide the stuffing and fill each breast with the pear filling and Brie. Using the cooking twine, tie the chicken breasts closed with 3 pieces for each. Heat an oven-proof skillet over medium-high heat and lightly coat with cooking spray. Carefully sear the outside of the chicken on all sides except where the stuffing is until golden brown. Set the chicken in the skillet cut-side-up and place the skillet in the oven (if you don't have an oven-proof skillet, place in a baking pan). Cover the skillet tightly with foil and cook 23 to 25 minutes, or until the chicken is cooked through. Cut each breast in half and serve.
MAKES: n/a
SERVES: n/a
CALORIES/SERVING: n/a