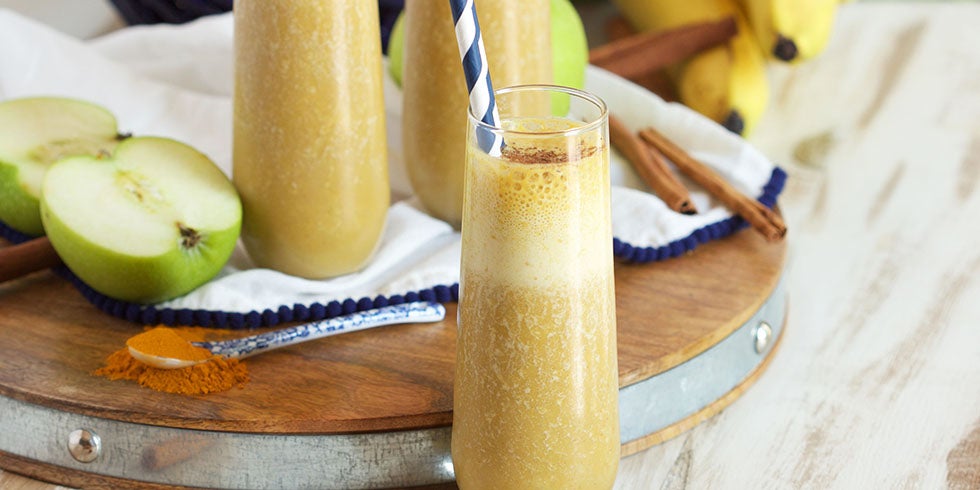 Apple Smoothie with Turmeric
( Kellie Hemmerly
Smoothies, Breakfast
American )
Enjoy a fresh start to your day with a flavorful fall twist! This Apple Smoothie recipe has a dash of turmeric and is packed with nutrients and tastes like a brisk autumn day.
Apple Smoothie with Turmeric
Prep Time: n/a
Cook Time: n/a
Total Time: n/a
VegetarianDiet
Ingredients
1 red apple, cored and cut into chunks 1 frozen banana, peeled 3/4 cup almond milk 1/4 cup plain low-fat greek yogurt 1 tablespoon honey 1/4 teaspoon ground cinnamon 1/4 teaspoon ground turmeric
Instructions
Place the apple, banana, almond milk, yogurt, honey, cinnamon and turmeric in a blender. Puree until smooth. Serve immediately. Note: If you like a thicker smoothie, add 1/4 cup ice cubes to the blender before blending. Enjoy!
MAKES: n/a
SERVES: n/a
CALORIES/SERVING: n/a