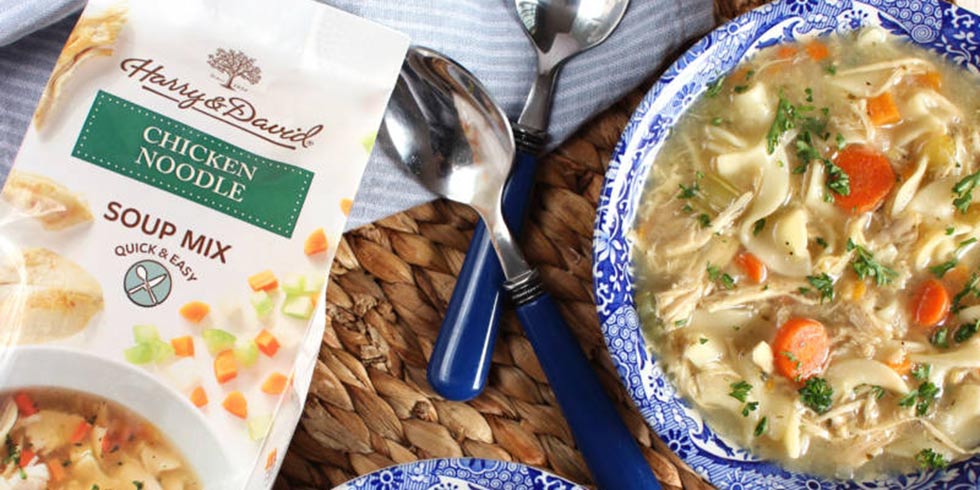 Instant Pot Chicken Noodle Soup
Better than grandma's, this hearty and comforting Chicken Noodle Soup recipe is ready in minutes with the help of your Instant Pot. This simple recipe tastes like it simmered all day and will instantly become a family favorite.
Instant Pot Chicken Noodle Soup
Prep Time: n/a
Cook Time: n/a
Total Time: n/a
Ingredients
1 tablespoon olive oil 1 cup diced onion 1 large celery stalk, diced 1 carrot, thinly sliced 1 garlic clove, minced 1 lb boneless, skinless chicken breasts Package Harry & David Chicken Noodle Soup Mix
Instructions
Add the olive oil to an Instant Pot set to saute mode and heat until simmering, approximately 3 minutes. Add the onion, celery and carrot to the pot and cook until softened. Stir in the garlic and cook for 1 minute longer. Add 9 cups water, the vegetable packet and soup base to the pot and stir. Place the chicken in the pot and place the lid on the pot. Lock the lid in place and cook at high pressure for 10 minutes. Turn off the heat and manually release the steam. Carefully remove the lid from the pot and transfer the chicken to a cutting board. Using two forks, shred the chicken into bite sized pieces and return to the pot. Turn the Instant Pot to saute mode and bring the soup to a boil. Add the noodles to the soup and cook for 8 minutes or until the noodles are tender. Season with salt and pepper, to taste. Serve immediately.
MAKES: n/a
SERVES: n/a
CALORIES/SERVING: n/a