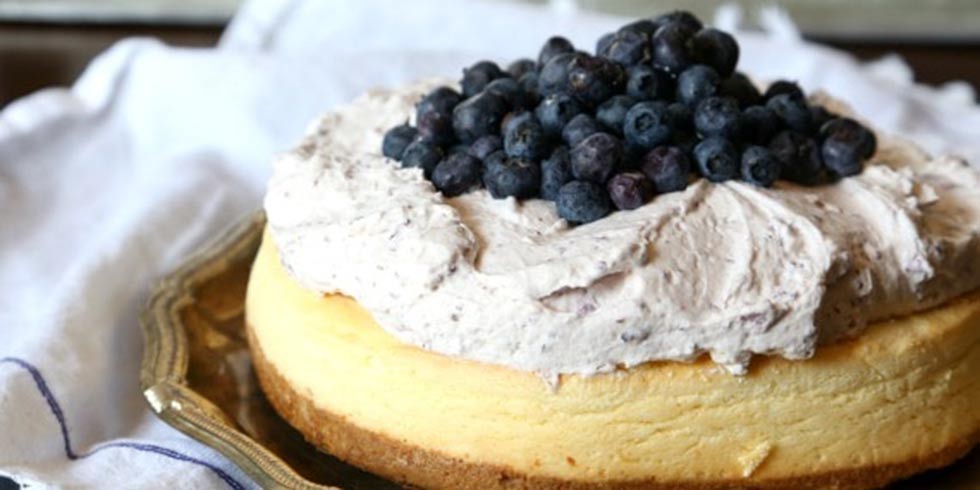 Blueberry Mousse Cheesecake Topping
Step up your cheesecake game with this Blueberry Mousse Cheesecake topping. It is a simple and easy way to spice up your plain Harry & David cheesecake and add some fruit flavors!
Blueberry Mousse Cheesecake Topping
Prep Time: n/a
Cook Time: n/a
Total Time: n/a
Vegetarian Diet
Ingredients
1 cup heavy cream 2 Tbsp powdered sugar 1/2 cup blueberries 1 Tbsp granulated sugar 8 oz cream cheese, room temperature 1/3 cup powdered sugar 1/2 cup extra blueberries for garnish
Instructions
In bowl of stand mixer, fitted with whisk attachment beat heavy cream and 2 Tbsp of powdered sugar together until stiff peaks form. Set aside. In small food processor or blender create a blueberry puree by blending blueberries and 1 Tbsp granulated sugar until it becomes a liquid. Set this aside. In clean bowl of your stand mixer fitted with paddle attachment beat cream cheese and 1/3 cup powdered sugar together until smooth. Add in the blueberry puree and continue beating until completely incorporated and smooth, scraping sides as necessary. Finally fold in your whipped cream into the blueberry cream cheese mixture until evenly mixed in. Spread the Blueberry mousse on top of New York-Style Cheesecake and garnish with more blueberries, if desired.
MAKES: n/a
SERVES: n/a
CALORIES/SERVING: n/a