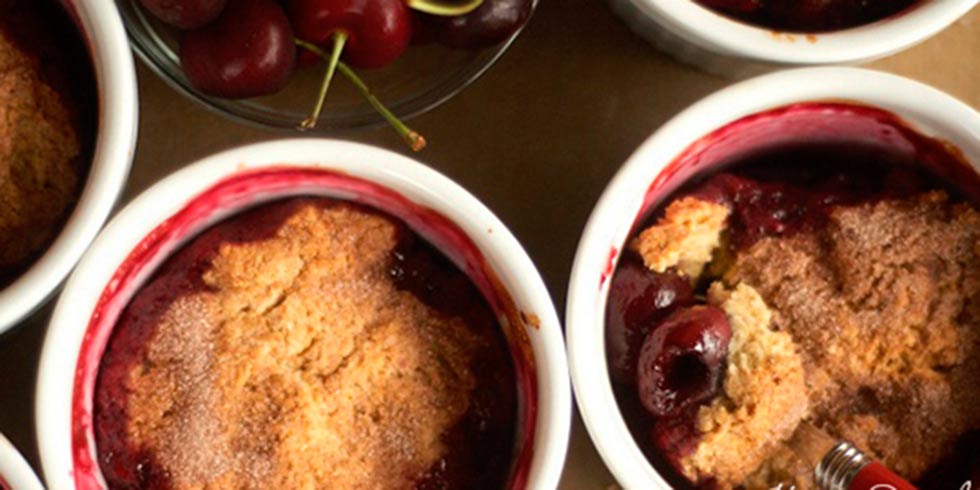 Easy Cherry Cobbler
This easy cobbler is a delicious dessert recipe that's perfect for Cherry-Oh!@reg; Cherries and can just as easily be made with peaches or pears. Enjoy!
Easy Cherry Cobbler
Prep Time: PT15M
Cook Time: PT45M
Total Time: PT1H
VegetarianDiet
Ingredients
6 cups pitted fresh Cherry-Oh!@reg; Cherries (about 3 lb. unpitted) 1 Tbsp. fresh lemon juice, strained 3 Tbsp. brown sugar 2/3 cup buttermilk 1 tsp. almond extract 1-1/2 cups all-purpose flour 1/3 cup brown sugar 1 tsp. baking powder 1/2 tsp. baking soda 1/2 tsp. salt 6 Tbsp. (3/4 stick) cold, unsalted butter, cut into small pieces 1 Tbsp. sugar mixed with 1/4 tsp. ground cinnamon
Instructions
Preheat oven to 375 F. Grease six ramekins or custard cups on a rimmed sheet or a 9 x13 baking dish. Stir together the cherries, lemon juice, and sugar in a large bowl until well mixed. Divide the fruit among the greased ramekins (or pour into the pie dish or baking dish). Bake the fruit for 12 minutes while you prepare the topping. In a small bowl, stir together the buttermilk and almond extract; set aside. In a large bowl, sift together the flour, brown sugar, baking powder, baking soda, and salt. Using a pastry blender, cut in the butter until the mixture forms large, coarse crumbs the size of small peas. Pour the buttermilk mixture over the flour mixture and stir with a wooden spoon until combined into a soft, sticky dough. Bake until hot and bubbling with browned topping, about 30 to 35 minutes. Transfer to a wire rack and let cool for 15 minutes. Serve warm with optional whipped cream or ice cream.
MAKES: n/a
SERVES: n/a
CALORIES/SERVING: n/a