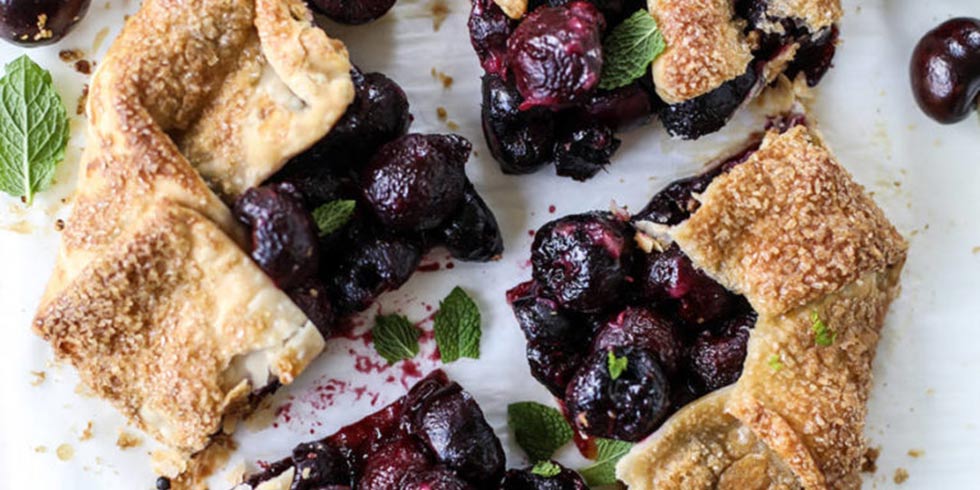 Simple, Fresh Cherry Galette
(
Dessert, Seasonal
American )
Simplify your classic cherry pie by whipping up this simple cherry galette! This delicious recipe will quickly enhance your menu this summer. And, with the addition of Harry & David cherries you'll really step up your dessert game!
Simple, Fresh Cherry Galette
Prep Time: PT35M
Cook Time: PT45M
Total Time: PT1H20M
VegetarianDiet
Ingredients
_For the Crust 2 cups sifted all-purpose flour 1/2 tablespoon sugar 1 teaspoons salt 1 large egg, lightly beaten 1/2 teaspoon white vinegar 1/4 cup ice cold water 3/4 cups cold unsalted butter, cut into pieces raw sugar for sprinkling for brushing: 1 egg + a few drops of water, beaten together _For the Filling 1 pound Harry and David cherries 2 tablespoons sugar 1 tablespoons cornstarch 1/4 teaspoon salt 1 lemon, juiced vanilla ice cream for serving
Instructions
Add the flour, sugar and salt to a food processor and pulse just until combined. In a small bowl, whisk mix together the egg, vinegar and water. Add the cold butter pieces into the food processor and pulse until small coarse crumbs remain. Sprinkle the water/egg mixture over the flour and pulse again until the dough comes together. Remove the dough with your hands and wrap it in plastic wrap. Refrigerate the dough for 30 minutes. After 30 minutes, preheat the oven to 400 degrees F. In a bowl, gently toss the cherries with the sugar, cornstarch and salt. Add the lemon juice and toss gently. Let it sit for 5 to 10 minutes. Roll the crust into a round or "rustic" shape no shape necessary really until it is about 1/4 inch thick. Place the dough on a parchment-lined baking sheet. Places the cherries in the center leaving a 2-inch+ border of crust. Once the cherries are placed, fold the crust over top of them. Brush the crust with the beaten egg wash. Sprinkle it with the raw sugar. Bake the galette until the crust is golden, about 40 to 45 minutes. Remove the galette and let sit for 5 to 10 minutes. Slice and serve with ice cream!
MAKES: n/a
SERVES: n/a
CALORIES/SERVING: n/a