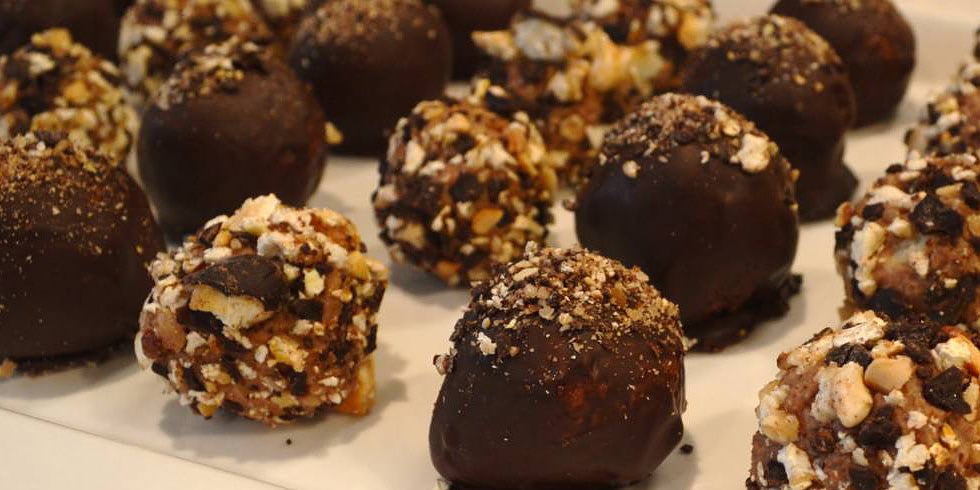 Valentine's Day Chocolate Cheesecake Bon Bon
( Harry and David Team
Dessert
American )
Entirely covered in delicious chocolate, these creamy cheesecake bon bons are topped with a fine dusting of Moose Munch@reg; Gourmet Popcorn, giving them a delicate crunch.
Valentine's Day Chocolate Cheesecake Bon Bon
Prep Time: n/a
Cook Time: n/a
Total Time: n/a
VegetarianDiet
Ingredients
2-pound Harry & David@reg; New York-Style Cheesecake 26 Harry & David@reg; dark chocolate truffles 1 cup finely crushed Harry & David@reg; Moose Munch@reg; Gourmet Popcorn (any flavor)
Instructions
Place the cheesecake (defrosted) into a medium-sized mixing bowl. Place 6 truffles in a small microwave-safe container and microwave for 40 seconds. The truffles will not be totally melted; stir with a spoon until the consistency is very smooth. Add the melted chocolate truffles to the cheesecake, thoroughly mix, and refrigerate overnight. After the bon bon mixture has thoroughly chilled, roll into half-ounce balls and refrigerate for at least 10 minutes. Meanwhile, place the remaining 20 truffles into a microwave-safe bowl and microwave for 1 minute. Again, the truffles will not be fully melted; stir until the chocolate is shiny and smooth. Wash hands well and be ready to get messy. Cover your hands with the melted chocolate and roll each bon bon with gentle cupped hands, adding chocolate as needed. Let the melted chocolate run off each bon bon while holding them loosely with your fingers, then place on parchment paper. While the chocolate is still "wet," sprinkle a little crushed Moose Munch@reg; Gourmet Popcorn on top of each bon bon. Once the bon bons have cooled slightly and the chocolate is hardening, chill them. These bon bons last well tightly wrapped and refrigerated.
MAKES: n/a
SERVES: n/a
CALORIES/SERVING: n/a