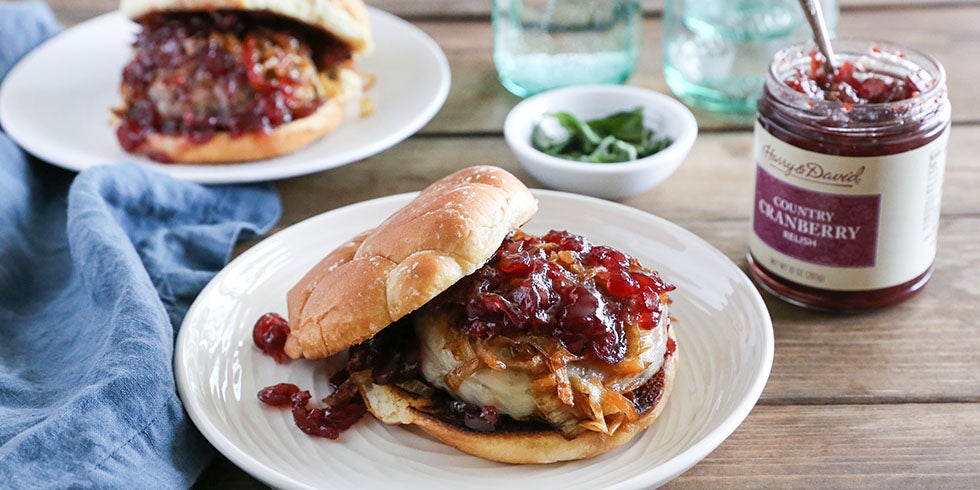 Burger with Caramelized Onions and Cranberry Relish
(
Dinner, Lunch
American )
It's not fair to judge, but it's ok to judge when it comes to burger toppings. And we LOVE to find different, tasty ways to enjoy a juicy burger. This burger recipe uses our Country Cranberry Relish, so get ready to impress the fam this grilling season.
Burger with Caramelized Onions and Cranberry Relish
Prep Time: PT15M
Cook Time: PT50M
Total Time: PT1H5M
Ingredients
3 Tbs olive oil 2 large yellow onions, sliced 1 lb. ground beef 1 tsp dried oregano 1 tsp dried parsley 1/2 tsp paprika 3/4 tsp sea salt 4 slices Havarti Cheese (or cheese of choice) 1 Jar Harry & David Country Cranberry Relish 4 potato burger buns (or bun of choice), toasted
Instructions
Heat olive oil at medium-high in a large skillet and add the sliced onions. saute, stirring occasionally, until onions are translucent and begin to brown on the sides, about 10 minutes. Reduce heat to medium-low and continue cooking, stirring occasionally, until onions become deep brown and are caramelized, about 40 minutes. Add sea salt to taste. Note: if onions begin to stick to the skillet at any point, add a few tablespoons of water to de-glaze the pan. Add ground beef, oregano, parsley, paprika, and sea salt to a mixing bowl. Use your hands to mush everything together until ingredients are well-combined. Form three 1/3-pound patties, or four 1/4 pound patties. Preheat grill to high heat. Carefully place patties on grill and cover with the grill lid. Grill for 3 minutes until first side is golden-brown and slightly charred. Flip patties, cover, and cook 2 minutes. Add the sliced cheese to the burgers and cover. Cook until cheese has melted, about 1 minute. Note: for well-done burgers, cook an additional 2 minutes. Spread just 2 to 3 teaspoons of Harry & David Country Cranberry Relish on each slice of toasted burger bun. Top burgers with caramelized onions, and serve alongside your favorite side dishes.
MAKES: n/a
SERVES: n/a
CALORIES/SERVING: n/a