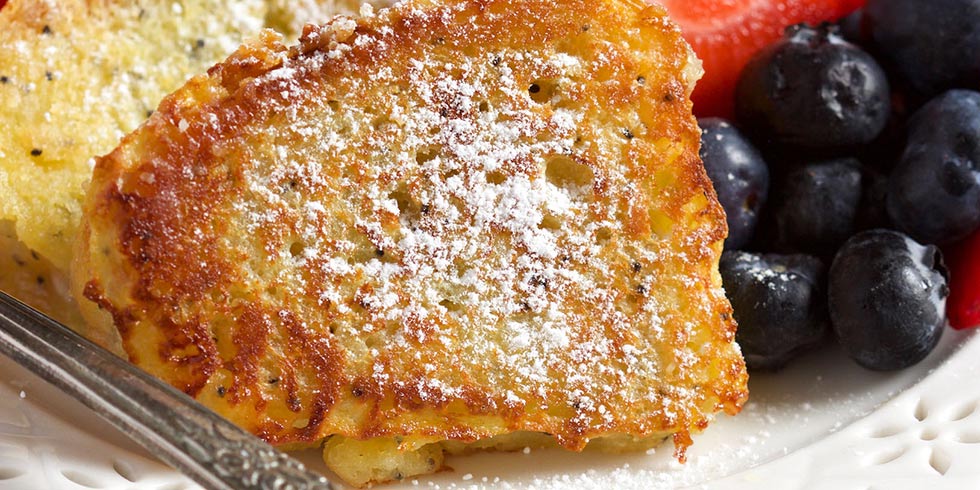 Lemon Poppyseed Bundt Cake French Toast
Here's a brunch recipe that's bursting with fresh spring flavor! This Lemon Poppyseed Bundt French Toast Recipe is a simple-to-make dish that will be a hit at any brunch gathering.
Lemon Poppyseed Bundt Cake French Toast
Prep Time: 5m
Cook Time: 10m
Total Time: 15m
VegetarianDiet
Ingredients
1 Harry & David Lemon Poppyseed Bundt Cake 2 large eggs 1 1/3 cup milk 1 teaspoon vanilla 2 tablespoons salted butter
Instructions
Slice the bundt cake into 8 equal pieces. In a medium bowl, whisk together the eggs, milk and vanilla. Heat a non-stick skillet over medium heat and melt the salted butter in the skillet. Dip a slice of cake in the egg mixture being sure to coat all sides. Allow the excess to drip off and place the cake in the skillet. Repeat with remaining slices. Cook the cake for 2-3 minutes or until golden brown. Flip the slices over and cook for an additional 1-2 minutes or until golden. Serve immediately with a sprinkle of powdered sugar, if desired.
MAKES: n/a
SERVES: n/a
CALORIES/SERVING: n/a