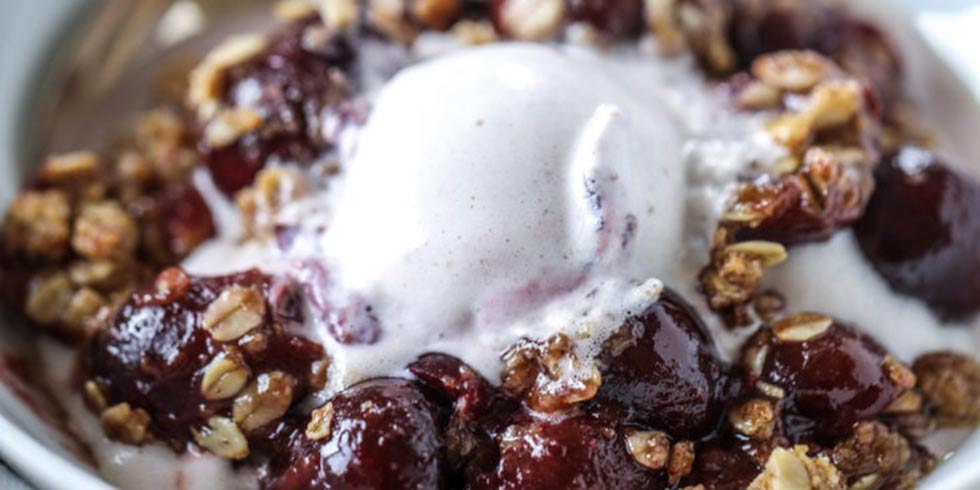 Oatmeal Cherry Crisp
This delicious Cherry Crisp Recipe takes very little effort to prepare. Don't let the minimal amount of ingredients and ease-of-preparation fool you this dessert is a hearty treat for the whole family to enjoy!
Oatmeal Cherry Crisp
Prep Time: PT10M
Cook Time: PT45M
Total Time: PT55M
VegetarianDiet
Ingredients
2 pounds fresh Harry & David Cherries, pitted 3 tablespoons sugar 2 tablespoons cornstarch 1/2 tablespoon vanilla extract 2 tablespoons unsalted butter, cut into pieces _Oatmeal Crumble Top 1 cup old-fashioned rolled oats 3/4 cup packed brown sugar 1/2 cup all-purpose flour 1/2 teaspoon cinnamon pinch of salt 6 tablespoons unsalted butter, softened vanilla ice cream, for serving
Instructions
Preheat the oven to 375 degrees F. Cut a handful or two of the cherries in half, so you have some whole and some half. Place them in a 9-inch round baking dish. Whisk together the sugar and cornstarch, then sprinkle it over the cherries and toss well. Add in the vanilla extract and toss. Let sit for 15 minutes. Toss again. Place the butter pieces on top of the cherries. In a large bowl, whisk together the oats, sugar, flour, cinnamon and salt. Use a fork to add the softened butter and then use your hands to bring the mixture together, moistening all of the mixture until it resembles sand. Sprinkle it evenly over the cherries. Bake for 40-45 minutes, until the crisp on top is golden and the cherries underneath are bubbling. Serve warm with vanilla ice cream!
MAKES: n/a
SERVES: n/a
CALORIES/SERVING: n/a