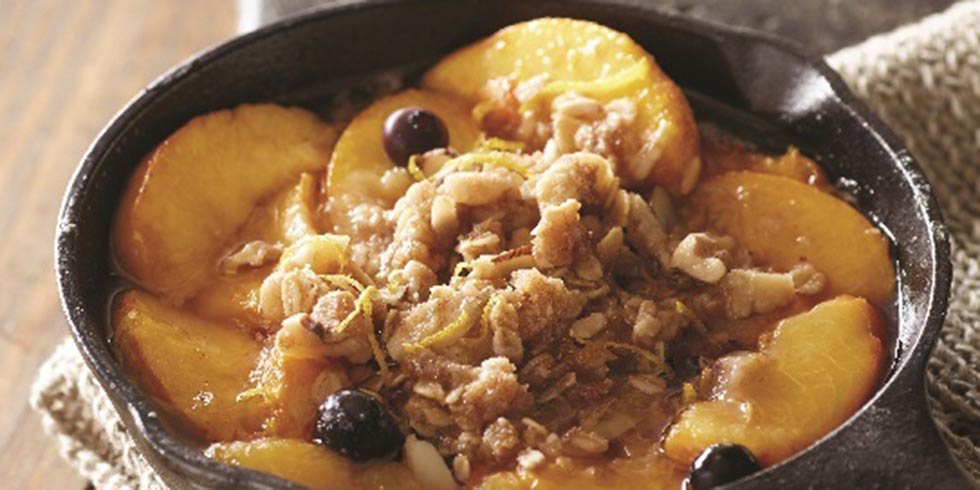 Classic Peach Crisp with Blueberries
( Harry and David Team
Dessert
American )
Looking for the perfect way to use your extra peaches this summer? Look no further than this Classic Peach Crisp with Blueberries! This peach crisp is a simple dessert that takes your peaches to the next level.
Classic Peach Crisp with Blueberries
Prep Time: PT10M
Cook Time: PT30M
Total Time: PT40M
VegetarianDiet
Ingredients
5 fresh, ripe peaches 1/2 cup fresh blueberries 1 tsp lemon zest 1/2 cup flour 1/2 cup brown sugar 1/2 cup chilled unsalted butter 1 tsp cinnamon 1/4 tsp salt 1 cup rolled oats
Instructions
Preheat oven to 350F. Butter an 8 x 8-inch baking dish. Slice peaches and place them in baking dish. Sprinkle with blueberries. Mix flour, cinnamon, and salt. Dice butter and cut into the flour mixture until evenly mixed. Add oats and lemon zest. Sprinkle on top of fruit and press lightly. Bake for about 30 minutes until top is golden brown.
MAKES: n/a
SERVES: n/a
CALORIES/SERVING: n/a