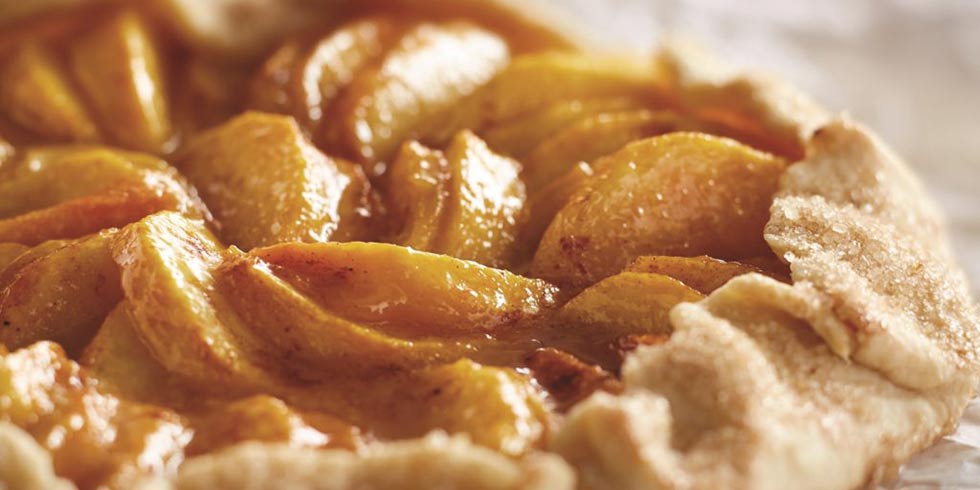 Simple and Rustic Peach Galette
( Harry and David Team
Dessert
American )
You've heard the expression easy as pie, right? Well we have something even easier, a galette! Featuring Harry & David's Oregold Peaches, this galette will be a hit at your next summer get-together.
Simple and Rustic Peach Galette
Prep Time: PT20M
Cook Time: PT40M
Total Time: PT1H
VegetarianDiet
Ingredients
4 fresh, ripe peaches, thinly sliced 1 1/4 cups white flour 1 cup unsalted butter, chilled 1/4 cup sugar 2 Tbsp ice water 1/4 tsp salt Raw blonde sugar
Instructions
Preheat oven to 350F. Mix flour, sugar, and salt in a medium-sized bowl. Cut 7 oz. butter into small cubes, and cut into flour mixture until texture resembles coarse cornmeal. Add ice water and quickly gather dough into a ball. Let rest, covered, for 15 minutes. Press dough into a 10-inch circle on a sheet of parchment. Place peach slices on the dough, overlapping in a circular pattern, and keeping inch from the edge. Fold and crimp the edges of the dough over the peaches. Cut remaining butter and top the peaches. Brush edges of dough with melted butter and sprinkle raw sugar on peaches and dough. Slip galette and parchment onto a baking sheet. Bake for approximately 40 minutes.
MAKES: n/a
SERVES: n/a
CALORIES/SERVING: n/a