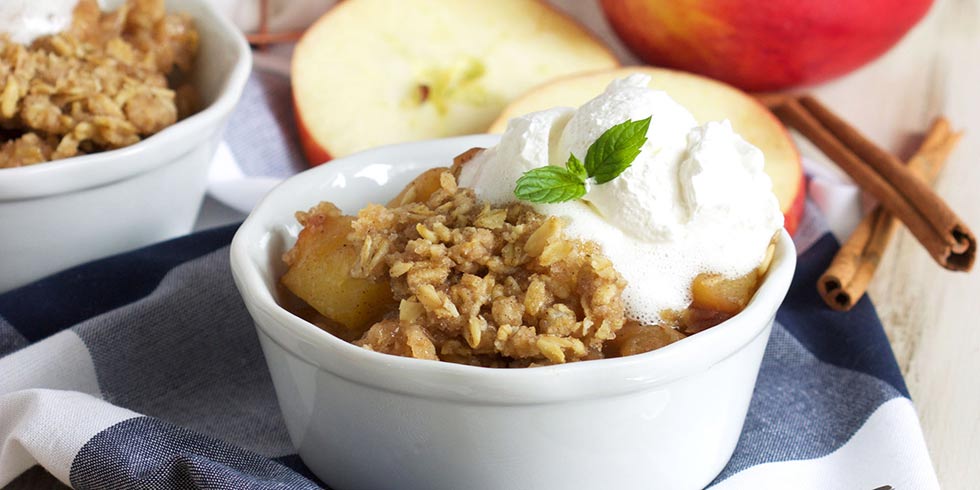 Slow Cooker Apple Crisp
( Kellie Hemmerly
Dessert
American )
Here's a classic fall recipe made easier with the help of a slow cooker. This easy to make Slow Cooker Apple Crisp will soon become a family favorite. Served with a scoop of vanilla ice cream or a dollop of whipped cream, it's perfect for entertaining.
Slow Cooker Apple Crisp
Prep Time: n/a
Cook Time: n/a
Total Time: n/a
VegetarianDiet
Ingredients
5 pounds apples, peeled, cored and diced 1 cup grated apple 3/4 cup granulated sugar 1/4 cup brown sugar 1 tablespoon ground cinnamon 1/2 teaspoon ground nutmeg 1 teaspoon lemon juice 1 cup old fashioned rolled oats 1/2 cup flour 1/4 cup granulated sugar 1 teaspoon ground cinnamon 1/2 teaspoon kosher salt 5 tablespoons unsalted butter, chilled and cut into cubes
Instructions
In a large bowl, toss together apples, grated apple, sugar, brown sugar, cinnamon, nutmeg and lemon juice. Combine thoroughly and pour the mixture into the bottom of a slow cooker and spread evenly. In a medium bowl, whisk together oats, flour, sugar, cinnamon and salt. Using your fingers or a pastry cutter, work the butter into the oat mixture until coarse crumbs form. Sprinkle the oat mixture evenly over the apples. Place the lid on the slow cooker and cook for 4 hours on high or 7 hours on low until the crust is a golden brown. Serve hot or at room temperature with whipped cream or ice cream, if desired.
MAKES: n/a
SERVES: n/a
CALORIES/SERVING: n/a