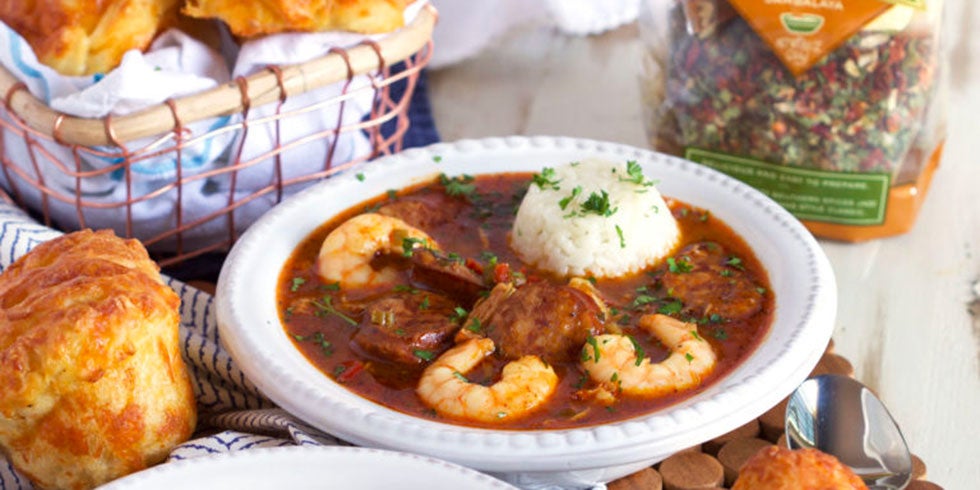 Slow Cooker Jambalaya
( Kellie Hemmerly
Dinner
American )
This simple recipe, created by food blogger Kellie Hemmerly from The Suburban Soapbox, is a zesty take on a Creole classic. A simple recipe packed with southern spices makes this dish a hearty addition to your culinary arsenal.
Slow Cooker Jambalaya
Prep Time: n/a
Cook Time: n/a
Total Time: n/a
LowLactoseDiet
Ingredients
1 package Harry & David Jambalaya Soup Mix 8 cups water 5 boneless skinless chicken thighs 3 4-ounce Andouille sausage links, sliced 1/2 pound peeled and deveined shrimp 2 cups cooked white rice (for serving, if desired)
Instructions
Set aside the yellow soup base packet and rice. In a slow cooker or crock pot, combine the water, vegetable packet and red seasoning packet. Add the chicken and sausage to the soup mixture. Cover and cook on high for 3 hours. In a small bowl, whisk together the yellow soup base with 1 tablespoon water. Add the yellow soup base and rice to the slow cooker stirring to combine. Cover and cook for 30 minutes Add the shrimp to the soup, cover and cook for 30 minutes longer. Serve immediately with 1/2 cup cooked rice, if desired.
MAKES: n/a
SERVES: n/a
CALORIES/SERVING: n/a