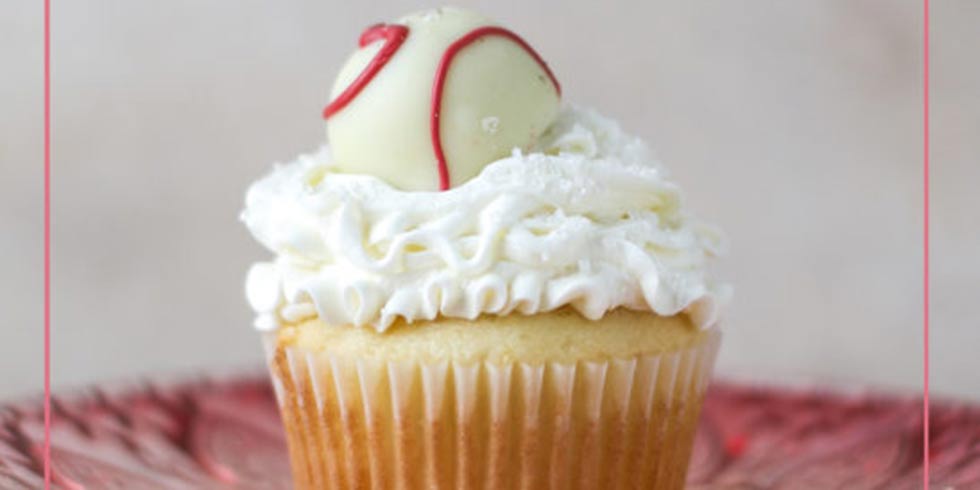 The Prettiest White Chocolate Cupcakes
( Jessica Merchant
Dessert
American )
Celebrate the ones you love with these adorable white chocolate cupcakes. Jessica Merchant, blogger of How Sweet Eats, tops these sweet treats with white chocolate truffles for a fun twist on classic Valentine's Day desserts.
The Prettiest White Chocolate Cupcakes
Prep Time: n/a
Cook Time: PT20M
Total Time: n/a
VegetarianDiet
Ingredients
_For white chocolate cake 1 1/2 cups cake flour 1 teaspoon baking powder 1/4 teaspoon salt 1/2 cup unsalted butter, at room temperature 1 cup granulated sugar 1 large egg + 1 egg white 2 tablespoons vegetable oil 3 teaspoons vanilla extract 1/2 cup whole milk 4 ounces white chocolate, chopped 1 box Harry and David white chocolate truffles, for topping _For white chocolate frosting 1/2 cup unsalted butter, softened 4 ounces cream cheese, softened 8 ounces white chocolate, melted and slightly cooled 2 cups powdered sugar 1 teaspoon vanilla extract
Instructions
_Instructions for cupcakes Preheat the oven to 350 degrees F. Line a muffin tin with cupcake liners. In a small bowl, whisk together the flour, baking powder and salt. Set it aside. Add the butter to the bowl of an electric mixer and beat it until creamy. Add the sugar and beat with the butter on high speed until fluffy, 2 to 3 minutes. Add in the egg and egg white, mixing well on medium speed until combined. Scrape down the sides of the bowl if needed. Add in the oil and vanilla extract, beating on medium speed for another minute. With the mixer on low speed, add in half of the dry ingredients. Pour in the milk. Add in the other half of the dry ingredients and mix them on medium speed until the batter is combined. Use a large spatula to stir in the chopped white chocolate. Fill the liners up 2/3 of the way with the batter. Bake until the tops are set and golden, about 18 to 20 minutes. _For white chocolate frosting Add the butter and cream cheese to the bowl of an electric mixer and beat on high speed until creamy and combined. With the mixer on low speed, slowly add in the melted white chocolate. Add in the sugar. Beat until the sugar is incorporated and add vanilla extract. Scrape down the sides of the bowl if needed. Beat the frosting on high speed for 2 to 3 minutes until fluffy and creamy. If the frosting seems too thick, beat in the tablespoon of milk for 1 to 2 minutes until combined. Frost the cupcakes and top with a white chocolate truffle.
MAKES: n/a
SERVES: n/a
CALORIES/SERVING: n/a